Walking with Elephants
• Paperback:
210 pages
• Publisher:
Literaryroad.com (August 10, 2010)
Synopsis:
Suze Hall is at a crossroads. Her nemesis at work, Wanda, has been promoted and now will be her boss. Her husband, Bob, is leaving her and the three kids for a six-month sabbatical down under. To top it off, her best friend, Marcia, is missing in action–playing footsie with some new boyfriend!
Adding to this disaster stew, David, the gorgeous hunk who broke her young-girl's heart, has coincidentally popped back into her life and has something she desperately needs to keep her job.
Walking with Elephants
, a lighthearted slice-of-life story, brings to the table the serious work/family issues facing women today. It explores the modern dichotomy of a workplace that is filled with homemakers who still must cook, clean, carpool on nights and weekends, shop for prom dresses, and "create" the holidays—such as Suze. But it also is filled with women who have the same drive as men, have no family responsibilities, and will do whatever it takes to get ahead.
So step into the shoes of Suze Hall and commiserate over workplace politics, titillate your sexual fantasies, ride the wave of a working mother, and fall-down laughing.
My Take on the Book:
I had the pleasure of reading this book by first time author, Karen S. Bell. I can't wait to see what she comes up with next! This book is a quick, easy to read work of modern fiction. It is one of those fun books that you could pick up and read in a day, I know because I did just that! I loved the book and the reference through the 60s, 70s, 80s and then into the setting of the 90s.
What this book isn't though, is a book of jolly-fun, quick-read and after you are done you move on to the next quick read. This book saved a huge punch for the end that gave the book its name, Walking with Elephants. I've had to pick up the book and reread Chapter 10 several times. I plan on doing it a few more times, too. Just to make it clear, this was NOT because it was confusing in anyway. This chapter is the climax of Suze and her pathway into freedom. The last chapter is so full of passion, and in my opinion, of course, will send, most readers, into a cloud of thought that will last for days!
I would say that the main characters were well created and defined. The star of the book Suze Hall, is a 40-something mom, wife, worker longing at times for something different. Who hasn't done that? She is beautiful and to take from the book, she wants to be sexy beautiful and not just matronly beautiful. She is like an older, milder
"Bridget Jones in Bridge Jones Diaries."
This set up makes the book funny, not annoying and full of hope for women and 40-something year olds!
Suze wants to be what she is and happy for what she is and the choices she has made. She wants other women to see this and come to a similiar conclusion. In the end, she knows that, her home, her husband, her children, they are the ones she can count on to get her though life. She also knows that she is the female elephant, the mother, the leader, guiding them into adulthood and independence.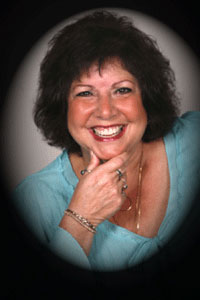 About Karen Bell:
Walking with Elephants
is my first novel, although I am not new to writing. I was a theater critic and celebrity interviewer for a weekly tabloid in Jacksonville, Fl and I earned a Master's in Mass Communication from Oklahoma State University. For 15 years I was an editor/writer at a major accounting firm. I also was a technical editor for an accounting magazine that published monthly. Inspiration for this novel came from my direct contact with the joys of Corporate America and the balancing act that comes with being a working mother.
Thanks to TLC Book Tours for providing me a copy of the book in participation on the Book Tour! To read what other bloggers will be saying about this book check out the
TLC Book Tour on Walking with Elephants!