Down below are other places that I have linked into today! I will be stopping in and visiting new peeps and saying HI to old ones!
Click here to see the other FOLLOW FRIDAY link ups today!

Here is a recipe for BRAIN MOLD
3 large or 6 small peach flavored gelatin
12 oz can fat free evaporated milk
Oil cooking spray
Green food coloring
2 1/2 cups boiling water
1 cup cold water
Instructions:



Lightly spray the inside of the brain mold.

In a large bowl place gelatin powder and 2 1/2 cups of boiling water. Stir with whisk for 2-3 min to dissolve powder.

Stir in 1 cup of cold water.

Add evaporated milk and stir for two minutes. It will already start to set.

Add a few drops of green food coloring to produce the flesh tone color.

Pour gelatin mixture into the plastic brain mold and leave 1/2-1 inch room at the top. If not it will spill.

Wrap several kitchen towels around the bottom of the mold. The towels will help to keep the mold upright in the fridge. Let set overnight.
Extracting the brain from the mold:



Carefully shake the mold until the gelatin is loosened from the plastic mold.

Put serving dish over mold and gently flip it over and place on table. Shake a bit and you will see it releasing from the mold and onto the serving dish.

NOTES: I've been told that you can do with with watermelon jello, too. Next time I'm going to try that flavor.

IF you want a clear brain, then don't use the evaporated milk. Instead use the same amount in water.

We added cookie jell on the inside of the mold as well as candy bones, spiders, teeth, mini chocolate chips,etc to add fun to the brain! Here are a few more pictures.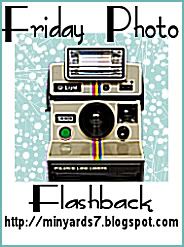 Here is my Friday Flash Back photo! It was taken somewhere between 1976-77. I remember that I loved this Holly Hobby shirt. I probably wore it until it fell apart.